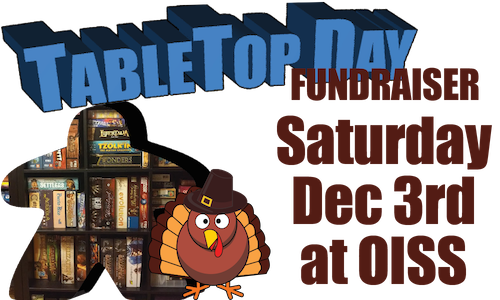 When you hear about games, you instantly think about fun and entertainment. Actually you might also think about an interactive and sharing experience. Now, what if we use this sharing feature for a good cause?
Well, that's exactly what we did on December 3rd, 2016 with our TableTop Day Fundraiser 2nd edition. 
Ludi et Veritas is very proud to have gathered not less than 50 board game enthusiasts that generously donated over $500 for Liberty Community Services, a New Haven association fighting against homelessness.
For each TableTop Days, we may have a cheerful and light day of playing, but that does not mean we forget about people in need. Spreading the fun and the smiles is our credo!
These special events are the occasion to convene newcomers, casual and confirmed gamers to spend a delightful time around puzzling, deciphering, challenging, but always enthralling, board games.
Last but not least, we are deeply grateful to the OISS, our most loyal sponsor, without which these events would not be as exceptional.
We want to address a special thanks to Maria, who has been at our side and helping us since the very first day of the club.  She did so much for us that we cannot restrain some tears while seeing her going away. However, she is leaving us for the better, and we wish her all the success she deserves in her new job. We hope we will see her again at our next event, but as a participant this time! 
We wish to see all of you, our fellow gamer friends, for our next event! In the meantime don't forget to stay tune with our calendar page to meet us at our regular meetings (weekly on Fridays, bi-monthly on Saturdays).
Below you can see some of the pics of the event. In case you would like to see more, head to our facebook group.