Event time:
Saturday, December 2, 2017 - 3:00pm
Location:
OISS
421 Temple St
New Haven
,
CT
Event description: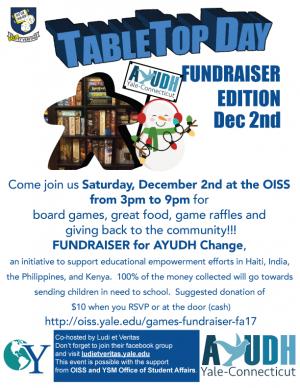 For our last game night of the semester, join us for a fundraiser in support of AYUDH Change, an initiative to support educational empowerment efforts in Haiti, India, the Philippines, and Kenya. 100% of the money collected will go towards sending children in need to school. We will ask for a suggested donation of $10/person at the door. In return, you'll be rewarded with delicious food (not just pizza), hours of gaming and game raffles. Please come out and help to support the cause! Co-hosted by Ludi et Veritas & AYUDH.
Join us any time between 3-9pm and the amazing Ludi et Veritas will also be at the event and help to answer questions and get new games going as people walk in. If you have a personal board game of your own, feel free to bring it along, and we will have plenty of games available for you to choose from.